The 2017 has been a full year with a number of our Entrepreneurs really thriving.  Here are some of the inspiring stories.
Mrs. Seelwathie [aged 62] is our oldest entrepreneur, and there is a 1.5km winding path from the nearest main road to reach her house. As you walk along the path, up and down hills and through trees you finally arrive at an isolated hand-built home.  A close look shows the rows of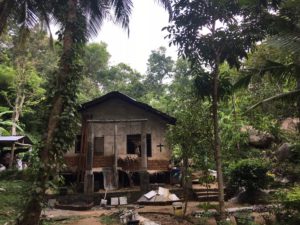 handmade straw bricks being dried in the sun so as to make an extension to her home, a home without electricity or running water.
Here Mrs. Seelwathie has worked hard harvesting herbal plants from the nearby forest to sell in the market so that her daughter Seetha now 18, could have the essentials needed to succeed at school.  It is a credit to both, that her daughter graduated.
Mrs. Seelwathie wanted to create a business selling oil cakes and sweets for resale in shops and for special occasions such as weddings and Avurudu [Singhalese New Year] so as to earn additional income.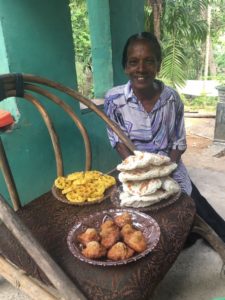 She approached the Mia Foundation for funding of raw materials for cooking, new pans, and a new cooker she could use indoors. She had relied on the outside wood cooker, but during the monsoons it was unusable.
It is still a hard road to overcome the isolation, but Mrs. Seelwathie enjoys the challenge and has received good orders for her fledgling venture.
Anna Maria, another one of the Mia Entrepreneurs,  loves meeting people and has set up a roadside kiosk not far from her home for serving her special herbal teas and porridges for passing traffic.
She looked to the Foundation for assistance to purchase a gas cylinder, cooker, urn, pots and pans for getting the products to market, and then improve her roadside kiosk with a new concrete slab.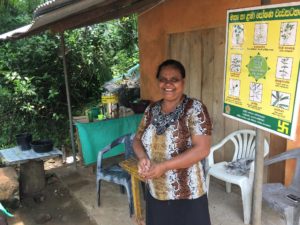 Each morning, Anna Maria makes her herbal porridge and teas in her home kitchen, and then brings them down to the kiosk to sell as a breakfast for workman and travellers.
She then takes the afternoon off and returns to the kiosk in the evening so as to serve the returning traffic with sago and hot herbal tea.  In doing so she has created a loyal customer base and her business is flourishing.
Anna Maria is one of the Foundation success stories whereby she has repaid her seed funding and is making a good monthly income and has been able to have savings set aside.
Sriwathie has had to run the household due to the ongoing illness of her husband.  With the help of family she was able to secure a plot of land and build a simple home for her family.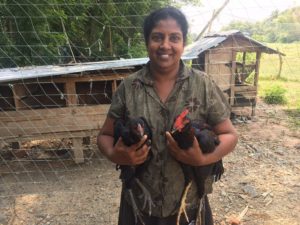 She sought funds from the Foundation to buy more brooding chickens and build a secure free range chicken run for roosting.  The additional brooders now produce enough eggs to give a daily income.  Her dream is to double her numbers of chickens so that her income can be more stable.
She is an example of how women have to struggle to be the breadwinner and how a small viable business can help sustain the family.