We are very proud of the progress our women are making this year. After their initial training and orientation they developed their own business plans, supported by a community facilitator. We have given loans to 15 families. They come from two villages in the central 'hill country' of Sri Lanka. One community exists inside a tea plantation, and is predominantly Tamil. The second community are Sinhala, they are located nearby and subsist with farming, running shops, or undertaking manual jobs. Their language, religion and culture are very different. Through this project, they have developed strong bonds, as they support and encourage each other. As women and mothers they have a lot in common, facing many of the same difficulties as they struggle to educate and feed their children and give them real choices.

Many of the women have used the loans to plant strawberries.   The climate in this part of the country is uniquely suited to strawberry harvests.  The return on investment is very good, even on a small scale it is profitable.  The community facilitator connected the women with agricultural training through the local government office, and helped the women to buy pots, seedlings and tools.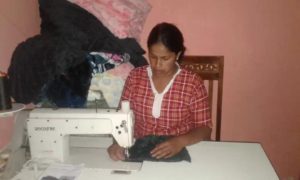 Other women are carrying out sewing and alterations in their homes, making clothes and mosquito nets. Another enterprising lady has set up a food stall in front of her house and another is making concrete bricks.
They meet together weekly, to share their experiences, to talk about challenges in their businesses, or in their families. One mother asks for help in registering her child's birth, another woman asks for advice about protecting the strawberry crops from insects. The community facilitator knows the women, and their situations and helps to connect them to services, support and information. The women open up to each other, sharing their experiences and offering advice. Once a month they come with their repayment money, and the appointed treasurer records each person's contribution before they are deposited to the groups bank account. It's very encouraging to see the personal growth among the women and the deepening of ties between these two communities.