Every year on the first full moon of the lunar month, usually in May, the Sri Lankan community prepares itself for a week of  cultural and religious Vesak festivities, celebrating the life of the Buddha. This festival is celebrated globally around the same time of year and is sometimes called Buddha's birthday in some nations, but this is not regarded as correct.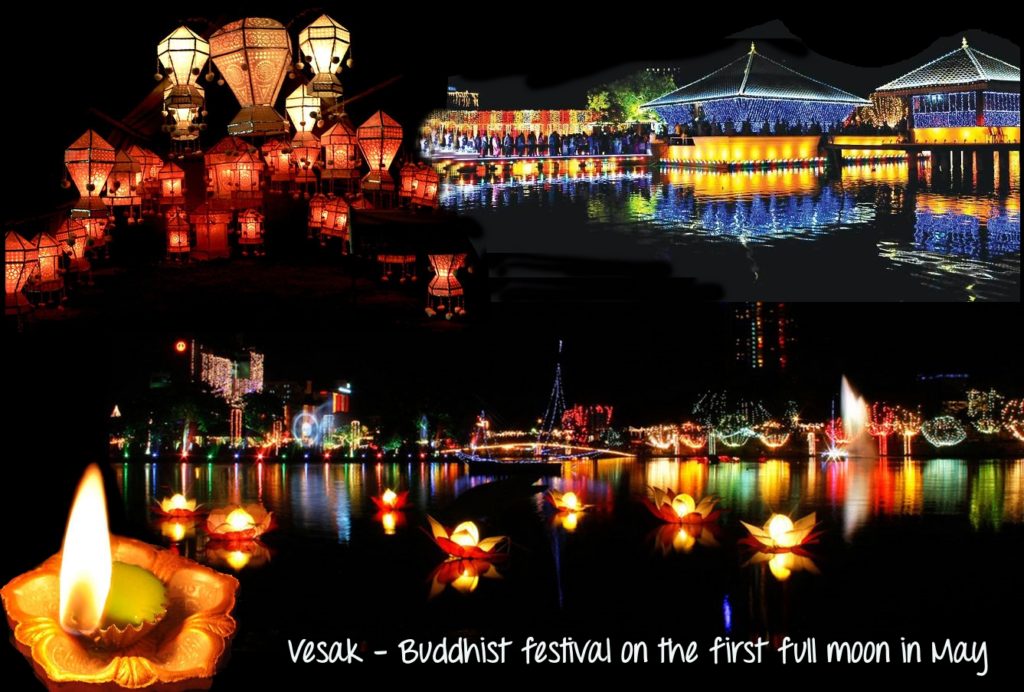 As a predominantly Buddhist nation, Sri Lanka explodes into a mass of colourful lanterns called Vesak kuudu.  These lanterns are traditionally homemade, or hung along streets, and all over cultural buildings everywhere.
The lanterns have a very special meaning,  it signifies the Birth, Enlightenment and Death of the Buddha.  Special celebrations and offering are held by devotees to give praise to the Triple Holy Gems – The Buddha, the Dharma [his teachings] and the Sangha [his disciples].
Candles and flowers are used in these offerings to symbolise that 'just as flowers will wither away and candles will surely burn out, so will one's life'.  Devotees are encouraged to contemplate the 8 precepts of the Buddha so as to lead themselves to a life of humility, morality and simplicity.  It is decreed that people should avoid causing any harm during Vesak as part of the precepts.  In Sri Lanka, over the 2 main days of celebration, the sale of liquor is totally prohibited and all abattoirs are shut so as to encourage people to lead a vegetarian lifestyle.
This may all sound very earnest, but it is really a great time to be in Sri Lanka.  In Colombo, the capital, there is a huge influx of people from the outer regions who are drawn to sights and sounds and the beautiful lanterns.  The singing and dancing lasts until dawn, and is so loud that many residents even leave Colombo so as to enjoy the peace and quiet of the countryside.
If you ever plan to visit Sri Lanka in the month of May, make sure to arrive for Vesak. It will be a truly unforgettable experience.