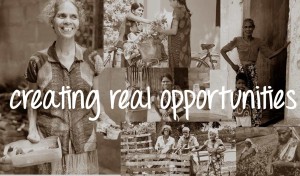 The Mia Fratino Foundation is a 'not for profit' charitable endeavor established in 2015, and funded by two Australian couples working in Sri Lanka, so as to make a real impact on women's poverty in Sri Lanka.
The name Mia Fratino is Esperanto for 'My Sister' and captures the goal to purely focus upon the plight of women who are indeed our 'sisters'.
After working in Sri Lanka for more than 7 years, and seeing the disparity between urban and rural incomes, it became obvious that many of the causes of the poverty was due to a lack of opportunity for people to create income.
We decided to create a micro-finance system to fund small business ventures set up by Sri Lankan village women, so that they can have an independent income that they could control.   The Foundation funds the training of the women in basic business skills and then lends them interest-free money to help them set up their micro-businesses.
This saves the women from the exploitation by corrupt money lenders or abusive domestic situations that stop them from being independent women.   The Foundation believes that by empowering women to have financial control of their lives will have the greatest impact on poverty.
Day to day running of the Foundation is overseen by Jacinta Holmick, an Australian ex-pat resident of Sri Lanka. Jacinta is a civil engineer, mother of four and presently completing her MBA.   She developed a strategy that ensured that all funding would reach the women and not be 'diluted' by bureaucracy or 'administrative costs'.
We are very serious about getting the maximum amount of money to the people we are supporting.  Therefore all operations of the Foundation are undertaken on a voluntary basis so that every dollar raised is directed to the women's programme to achieve the greatest impact.  There are no fancy offices or glitzy functions, just a lot of hard work to make this a reality.
Our goal is to have a positive impact on the lives of 1000 Sri Lankan women by 2027, which should then create incredible role model momentum for other women to follow so as to build a better life for themselves and their families.